Foot and Ankle Injuries in Children's Athletics.
Imagine yourself on the sidelines of your child's soccer game and she falls to the ground grasping her leg in pain. More than likely your child has suffered some type of ankle injury. Your podiatric physician can guide you in the correct treatment plan to allow your child to get back in the game and to help prevent further injury from occurring. We need to understand that when our children are involved in athletic activities, injuries are inevitable. It is understanding the need for proper treatment of these injuries that can help to avoid long term problems.
Since the majority of sporting events occur in the evening or on the weekend, the first physician you may see is in the emergency room. Most emergency room physicians will obtain x-rays to rule out a fracture. If a fracture is visible, then immobilization is required. Sometimes an ankle fracture may not be obvious. A referral to a foot and ankle surgeon may be required to determine if surgery is needed. It is important that they check for growth plate injuries. In children, a growth plate is an area where bone is actively growing. If this growth plate is damaged and not treated properly, the bone will not reach its normal size causing further deformities. Treatment of a growth plate injury requires immobilization with the child being placed in a removable cast boot.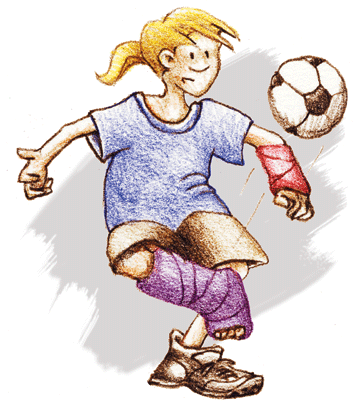 If no fracture is seen on x-ray, the child could have damaged a ligament or a tendon. Treatment for a damaged tendon also involves immobilization for a one month period. Treatment of ligament damage depends on the severity of the injury. A mild ankle sprain has occurred if there has been damage to only one ligament in the ankle. Mild ankle sprains can do well with (RICE) rest, ice, compression, and elevation. We may consider anti-inflammatory medications, with treatment continuing for about 2-3 weeks. Activity can continue as long as they avoid reinjury of the ligament. Taping of the foot and ankle can assist in the healing of this ligament.
A more severe ankle sprain, involving more than one ligament, typically requires immobilization for an approximate 4 week period to allow the ligaments to fully heal. These ligaments need to heal firmly; otherwise the person could develop chronic ankle problems leading to lifelong instability and pain. Though the method of treatment can vary the goal is the same:
Reduce the inflammation and pain
Preserve strength and range of motion
Maintain the correct foot and ankle position
Return to functional activity with stability
If a child has repeatedly sprained their ankle we begin to worry about joint damage and how this may affect them in adulthood. Sprains can lead to arthritic changes and a chronic pain condition. This is why we get very aggressive in treating young athletes because we do not want chronic
ankle instability.
As foot specialists, we are particularly interested in the mechanical function of the foot. If there is a deformity that causes the child to repeatedly injure the foot or ankle, then fitting this person with either a brace or functional orthotic is recommended. An orthotic is designed to control the motion of the foot, ultimately improving function and reducing the chance for injuries.
As much as a child loves to play the game and the parents loves to watch, school athletics can be a short-lived experience. What is most important is maintaining the proper care of their feet and ankles to assure your child a lifetime of physical activity.
For more information on children's foot and ankle injuries or to schedule an appointment with Dr.Greg Mack, Foot & Ankle Clinic, call 800-359-4421. Dr. Mack sees patients in Cumberland, Eau Claire, Menomonie, Rice Lake and Shell Lake .